Three great candidates emerged from the judging process for Best New Store at the Convenience Retail Awards 2014. From the latest energy-saving equipment, to the spotlight on local and fresh, these stores have shoppers' needs covered. Take a tour around the winning store, Malcolm's Kwiksave of Chelmsley Wood, Birmingham, run by Paul Cheema (above), and step inside runners-up Simply Fresh in Thames Ditton, Surrey, and White's of Calver, Derbyshire
Malcolm's Kwiksave, Chelmsley Wood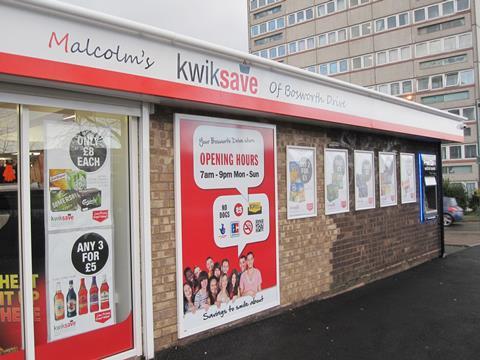 Winner - Best New Store
The judges were impressed by the ambition, commitment to quality and high levels of investment shown by all the finalists in this category, and it was a difficult choice to make. However, the winning entry from Malcolm's Kwiksave in Chelmsley Wood was remarkable not just because of the impressive quality of the finished store, but also for the positive impact that the new store opening in a previously troubled location had on the shopping provision for local people, and the benefits to the wider community as a whole.
Sponsor: Daily Mail
The Kwiksave store is organised around shopper missions, with zones for breakfast products, food on the move and evening meal solutions.
The Cheema family have worked closely with suppliers to bring fixtures to life, including a home-baking unit by General Mills and a counter chiller from Red Bull.
Smart doors on chillers throughout the chilled food and off-licence section save energy and help to create an attractive in-store environment.
Community benefit
Malcolm's Kwiksave is on the site of a former pub with a troubled history, so it was a priority to make a positive impact on the local community.
A free cash machine and InPost parcel collection locker are seen as assets to people living in the neighbourhood.
Fresh meat, fruit and veg have proven to be major successes at the store, as shoppers are looking for a basket of essential groceries for cooking at home.
Simply Fresh, Thames Ditton
Vic Grewal was approached by the local Residents' Association in Thames Ditton to open the store and has worked closely with it and local businesses to create a Simply Fresh-branded store that is sympathetic to the area's heritage and architecture.
In line with shopper demand, the store stocks a wide range of local and speciality products which enjoy huge popularity with its affluent customer base. Vic is also helping to set up a monthly farmers' market to further showcase and support local producers.
Fresh food accounts for just over 30% of the store's turnover, and participation is growing. The store also boasts a popular fine wine section and BWS account for just over 20% of sales.
As the only grocery store in the village, the store has quickly become the heart of the community, benefiting local people and other businesses alike by bringing in extra shoppers. Open less than a year, the 1,300sq ft store is turning over almost £19,000 a week with no services, and average basket spend is almost £7.
Smart black slate floors add to the store's premium feel, while fresh fruit and vegetables are artfully displayed in wicker baskets, and bread and pastries are in an attractive wooden casing. All chilled products are kept behind clear energy-saving glass doors.
White's of Calver (Spar)
Shoppers at Edward White's store White's of Calver are regularly encouraged to sample products. Tastings are held two or three days a week, on anything from oils and breads, to cheeses and local pies. The team often runs staff tastings beforehand so that everyone can experience the products and then describe them accurately to the customers and encourage them to have a try.
Within the vast off-licence section, each wine is labelled with detailed tasting notes and food pairing ideas.
There are useful serving suggestions dotted around the store on a variety of specialist products, such as Granny Mary's potted beef with butter, which works well on toast.
Local links
Having owned the small Spar forecourt opposite his new outlet for several years, Edward knows everyone in the local area and has used this to his advantage when sourcing local products for his farm-style store.
The store uses 10 local suppliers, providing it with locally-grown fruit and vegetables, baked goods from nearby Bloomers and The Old Original Bakewell Pudding Shop, meat, plus beers and ales, and about 80 wines from a specialist merchant.
Store manager James Stead has created engaging POS which flags up local products and details how far they have travelled.