After more than a few setbacks, husband and wife team Julian and Jackie Taylor-Green have created a high-tech store their shoppers can be proud of.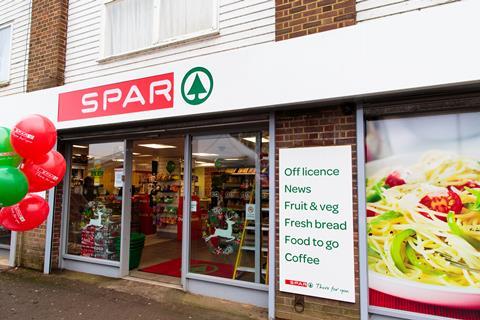 On the surface, Julian and Jackie Taylor-Green have it all: a newly-refitted store complete with the latest technology, no competition on their doorstep and a location in a perfect spot in a quaint Hampshire village. But look beneath this and you'll find this husband-and-wife team haven't had an easy journey, overcoming challenges that would have beaten less-determined retailers.

The move to c-store retailing was a natural one for the duo; Julian had worked in the cash and carry industry for 22 years and when he and his wife Jackie had children it was time to head south to be closer to family. They settled in the picturesque village of Lindford and acquired their first small local village shop. And when the larger Spar store in the village became available in 2001 they decided to embark on a much bigger project, taking on the larger outlet.

They switched to a Londis fascia and business ticked along nicely, until 2010 when disaster struck; the main road into Lindford was closed, with the roadworks lasting for almost a year. It was a blow and trade suffered, with the bakery the family also owned next door to the store taking the biggest hit. Says Julian: "The bakery was a great asset and attracted a lot of passing trade. Unfortunately, we had to close it due to the road closure. Our sales were badly affected, falling 20%."

However, thanks to support from local customers the c-store withstood the challenge and by 2013 it was time for the duo to think of the future, making the brave decision to switch back to Spar. Julian explains: "Londis had been on a bumpy road since 2008. In the end it took us six months to decide which symbol group to change to. We were between moving to Spar, moving to One Stop or staying with Londis."
Store facts
Spar Lindford, Hampshire
Store size: 2,000sq ft
Staff: 17 staff at full capacity
Opening hours: 6am-10pm Monday to Friday, 7am-10pm Saturday and Sunday
Services: Post office, Lottery, PayPoint, free-to-use ATM
In the end the move came down to the benefits offered by Blakemore. The Taylor-Greens wanted a better balance of fresh and frozen products and not only did Blakemore have this, they also offered next-day deliveries and single-pack items, suiting the way they traded much better.

The change was another testing time for the pair. "I underestimated the complexities of changing symbol groups; customers are creatures of habit," points out Julian. They had spent more than 10 years building up the Londis brand and their customers trusted it, but thankfully they also trusted Julian and Jackie. "During the change customers were sceptical whether moving to Spar would have an effect on them, but it seems they stuck by us," he says.

With the symbol group now secured they were ready for the next step of the Spar transformation and last year made the bold move of embarking on a complete store refit and extension. The store grew from 1,350sq ft to 2,000sq ft thanks to knocking though to the next door bakery.

The store stayed open throughout the building work, which was a challenge as space was dramatically reduced while the workmen got on with the job. "From the start our chilled capacity was reduced by a third, grocery space went from 9m to 4m, and in total we lost 9m of ambient space," recalls Julian. The Taylor-Greens saw an immediate drop in sales of 15%.

Six weeks before Christmas 2014 the revamped store was complete, but they had a lot of ground to catch up. "It was a challenging start as we had missed out on a big chunk of the Christmas promotions. Many customers had already stocked up elsewhere," recalls Julian. But the Taylor-Greens do not give up easily, and on the last weekend in November they held a grand launch party for their new-look Spar, with entertaining Christmas activities for the whole community including food sampling, face painting and even the opportunity to meet Santa. "The day was a great success and as it stands we've only lost 5% of our customers since the refit, though we hope by showing our customers stability and consistency, they will find their way back to us," adds Julian.

Their determination is paying off, with figures looking positive. They have seen a 2% margin growth and an average profit margin of 20.7% net since the refit.

Hot food to go is a big winner for them, with Jackie serving up fresh breakfast baps and fry-ups at breakfast, and jacket potatoes and burgers at lunchtime. Freshly-made sandwiches and baguettes are also available. "Food to go is off to an outstanding start; we are already making a 32% profit - that's £1,600 a week," Julian says proudly.

Customers are enticed by the section's welcoming smell, enough to stop any hungry shopper in their tracks, and Julian and Jackie want to make the most of this. Plans are afoot to extend the range, offering more breakfast lines and to include their recently added Tchibo coffee machine in a meal deal. Julian sees meal deals as another area to exploit. "We are really keen to get the meal deals working as our food to go is doing so well. Once we have Spar's entire line of meal deal produce I am confident we will do even better," he says.

Fresh produce is the other standout category. Thanks to the extra square footage the store now devotes four times the space to enticingly-displayed fruit & veg, which Julian and Jackie show off to good effect in rustic wooden boxes. The extra space is paying dividends: "Fresh foods are doing great; we are working at 20% net of waste," Julian says.

The extra space has been used to good effect elsewhere, too, as the store has an open and spacious feel, and room to offer a wider mix of products. Although Blakemore's extensive range had attracted them to the group, the Taylor-Greens include local produce, too. Lines from 12 local suppliers grace the shelves, including their most successful, Honey Garden Sauces. The sauces are made by a local Indian restaurant in Liss and have built a loyal following. Julian says: "Customers like that it is locally sourced and restaurant quality. Even people outside of the area come back for these sauces."

As well as improving the product mix, the refit gave Julian the chance to "future-proof" the store, bringing in green technology to cut bills and dramatically reduce their carbon footprint. "Originally, we had three packs running the fridge units; we now have only one pack running the whole kit," he says. All fridges, except those housing fresh produce, have double-glazed doors, and the whole store is lit using LEDs; they are even installed in the fridges.

The technology also extends to in-store marketing, where a large interactive screen at the front of the store is used to display advertisements and promotions.

The Taylor-Greens haven't just gone green on the shop floor, either. They have found ways to recycle food waste and cardboard through Blakemore. "It was another reason for joining them. We are able to send all our cardboard and shrinkwrap back to them; even our out-of-date and unsold foods go directly back to supplier. It's a huge help for us," Julian explains.

Its green credentials are only matched by its community efforts, with the store keen to show its appreciation for those who support their local store. Beneficiaries include the local football team and the primary school which receives the money the store makes from charging for carrier bags.

While this family firm may have had a bumpy ride to get to this point, the road ahead certainly looks a lot smoother thanks to an up-to-the-minute store and a whole lot of determination.
Local ales
The range of local products in Spar Lindford also extends to the alcohol section. The Hogs Back Brewery, located less than 12 miles away from the store, supplies Julian and Jackie with a wide selection of ales. They retail for £2.35 each, or customers can pick up three for £6. Julian says: "This is a winning product with shoppers as they can mix and match across all different ales in the range."