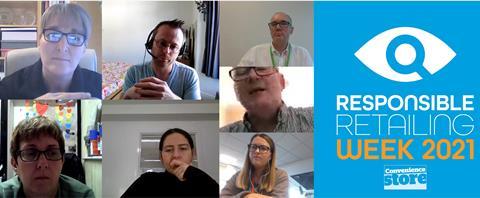 As part of Responsible Retailing Week 2021, some top retailers got together with representatives from JTI and Camelot to discuss the main challenges they face when it comes to responsible retailing.
The main issue that permeated the roundtable was that retailers are having to face a lot of the challenges on their own and are having to rely on guidance from supplier or other retailers for support when it comes to the abuse they get for refusing a customer or making sure they stick to the relevant legislation. There was a mixed response to working relationships with Trading Standards, ranging from having regular lines of communication to none at all.
One area of contention for the retailers was around proxy purchasing and communicating it to customers. It was felt that while customers were aware of it when comes to alcohol, more could be done on the tobacco side to inform the public that it is illegal for people to purchase products on behalf of those that are underage.
Vaping was a big issue for one retailer, particularly for those under the age of 18 attempting to buy. They had put more than 30 incidents of refusing someone vaping products in their records book since the school term started in September. The retailer added that attempts to buy cigarettes had drastically reduced due to other shops not adhering to age-related sales legislation or selling illicit tobacco which had hit their margins.
Another retailer on the panel had also struggled with illicit tobacco being sold on social media in their area and despite pleas to Trading Standards, it continued.
While illicit tobacco reduced in 2020 due to Covid-19, the retailers felt that it was starting to return to 2019 levels as international travel continues to open up. Concerns were also raised about the £20 cut to Universal Credit and how it may cause some people to buy illicit tobacco as it's cheaper.
In the absence of any legislation surrounding energy drinks and their sales to minors, the retailers adopted their own policy as they felt it was the "moral" thing to do.
On HFSS, while the majority of the retailers involved were exempt due to the size of the store, they were concerned about the onus being placed on them. They called for more education around the restrictions for consumers, particularly on promotional offers as some consumers rely on them. They agreed that it's not a retailer's place to dictate what type of products consumers want to buy as long as they're remaining compliant.