Disinfectant brand Zoflora has launched a charity fragrance as part of its partnership with autism not-for-profit organisation Caudwell Children.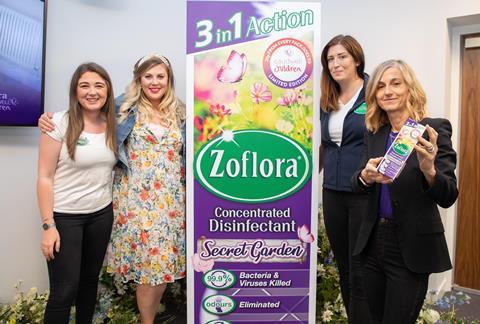 The limited edition scent: Secret Garden will help support autisic children and young people through sale-based donations, with twenty pence from the sale of each 250ml bottle (rrp £2.84) being donated to Caudwell Children.
Available to convenience stores from next month (September), the product forms part of a two-year partnership between Zoflora and the UK-based autism charity.
Zoflora senior brand manager Vicky Oldroyd commented: "This cause has become incredibly close to our hearts and we are delighted to unveil the new Secret Garden fragrance back in the wonderful Wild Garden we helped create.
"Through the introduction of this innovative, limited edition fragrance, we hope to drive further awareness of the amazing work that Caudwell Children undertake amongst our loyal fan base, and consequently raise more funds to help them support even more children in the future."
Trudi Beswick, chief executive of Caudwell Children, added: "Zoflora continue to play a big part in the charity's mission to help children and families affected by autism and we are extremely grateful for their support.