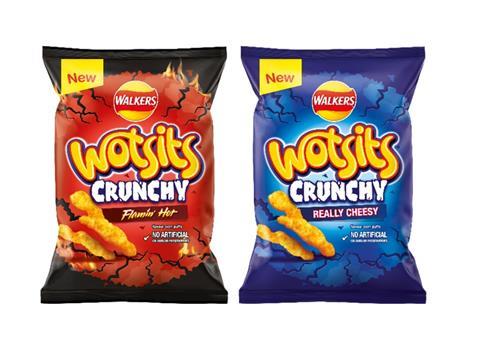 PepsiCo is expanding its Wotsits range with the launch of Wotsits Crunchy. Rolling out to the convenience channel in 60g £1 RRP PMPs from 11 April, the snacks are available in Really Cheesy and Flamin' Hot flavours.
Walkers Snacks marketing manager at PepsiCo Katherine Cook, said: "Offering a variety of snack options has always been important to the Wotsits brand, and we know consumers are incredibly keen to experience new textures and flavours. This is exactly why we have introduced the new Wotsits Crunchy – to meet those shoppers' needs. Following a challenging two years, I'm sure we could all benefit from a moment of melty - and now crunchy - Wotsits enjoyment!"
Wotsits is driving awareness of the new Wotsits Crunchy range through a supporting £1.5m marketing campaign throughout April, which includes digital, social advertising and shopper activations.