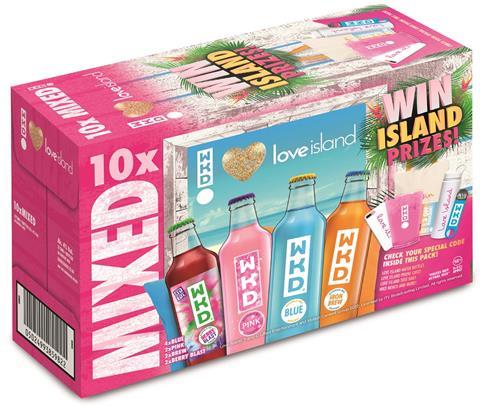 SHS Partners has struck an exclusive deal for WKD to be the official alcohol partner of Love Island series 8.
The partnership will include broadcast media, co-branded pack designs, price-marked packs, on-pack promotions, in-depot activation, and a huge social, digital and influencer campaign, including exclusive WKD-themed content featuring Islanders. Plus, a Love Island promotion as part of an activation in pubs and bars will feature for the first time this year as an additional strand of the campaign, to further increase awareness amongst convenience shoppers.
Alison Gray, head of brand – WKD, at SHS Drinks, said: "We're really proud to be linking with Love Island for a second time; we're the perfect couple and just meant to be together! The programme is a TV phenomenon with huge reach and fans can't get enough of it. In a fragmented media landscape, the continued success of Love Island highlights just how much our target consumers still relish a shared media experience. Last year, Love Island attracted three times more all-important 18-25 viewers than other similar programme formats.
"Consumer and trade feedback was extremely positive last year and we're back with an all-inclusive package deal that's even bigger and better. Consumers are going to see WKD and Love Island brands partnered up on TV, partnered up on retailers' shelves and partnered up on social media. In addition, this year we'll be filming exclusive WKD content on location in the sun and also setting Islanders some of our very own cheeky 'YourWKDSide' challenges. As 2022's winning couple, WKD and Love Island are going to serve up some sizzling summer fun to entertain, engage and engender sales growth."