Weetabix is bringing back its Any-Which-Way-A-Bix campaign in January with a new 'Win £10,000' on-pack promotion and in-store activity.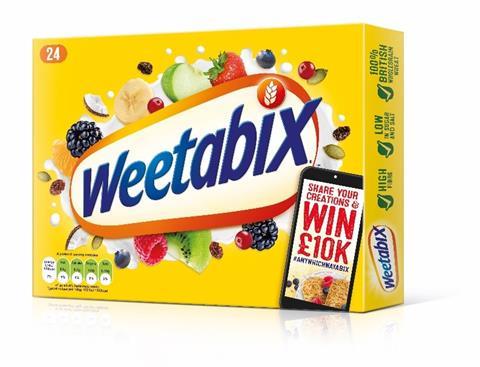 An extension of the 'Have You Had Your Weetabix?' messaging, the activation is part of a wider £11m media spend and aims to drive penetration and category value by encouraging consumers to share their Weetabix creations to win a cash prize.
Any-Which-Way-A-Bix taps into the growing trend for customising food, celebrating the different ways Brits enjoy their Weetabix. The 2019 campaign saw a 7% uplift in sales and increased the number of new Weetabix shoppers, making it the brand's most successful campaign and best-performing TV creative to date.
A limited-edition pack design will feature on all core Weetabix Original packs, including pricemarked packs. Launching with a month of in-store activity and remaining on-pack till March, the distinctive packs feature colourful images of fruit, nuts and seeds and the 'share your creations to win £10K' campaign graphic to encourage consumer involvement and purchase.
An updated Any-Which-Way-A-Bix TV advert will also run, alongside in-store promotions and POS. Inspiration for cereal combinations will be available across Weetabix's social media, with consumers using #AnyWhichWayABix to enter their own creations. Weetabix will also work with influencers to generate breakfast excitement and healthy recipe inspiration to help consumers start the day, and the new year, right.
The campaign is the first part of a wider marketing strategy for 2020, with Weetabix aiming to triple its advertising investment between 2018 and 2020 across TV, radio and digital. More activity will be unveiled later in the year.
Weetabix senior brand manager Charlotte Hunt said: "We've gone bigger and better with Any-Which-Way-A-Bix for 2020. The amplified campaign builds on the success of last year as we aim to once again inspire and capture the attention of the nation, reinforcing Weetabix as an enjoyable, healthy and advantageous way to start the day. With striking new visuals and an exciting new on-pack proposition, we're confident that this campaign will bring more shoppers to the cereal aisle and drive fantastic results."
Weetabix is found in more than 35% of UK households and 1.3 billion bowls have been eaten in the past year (Kantar: Purchase and Usage panel, 52 w/e 3 November 2019).