Cereal brand Alpen is hoping to drive consumer demand in the muesli category with the launch of Alpen Chocolate.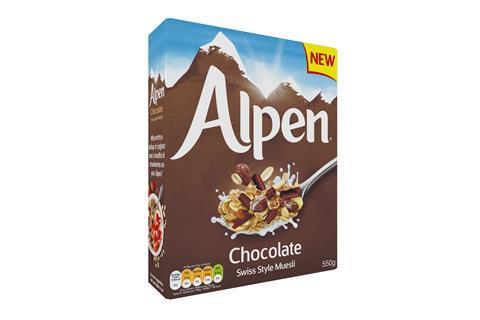 Available from January 2020, the new variant is designed to offer retailers a more indulgence breakfast option to stock, whilst maintaining Alpren's health-led brand credentials.
Featuring rolled oats and toasted wheat flakes with roasted almonds and hazelnuts, plus raisins and chocolate curls, Alpen Chocolate is aimed at shoppers looking for new and innovative breakfast flavour profiles.
Helena Blincow, marketing manager at Alpen (Weetabix Food Company), said: "As category leaders, we are constantly working to develop our portfolio to ensure it meets consumer tastes and needs.
We've consistently received consumer requests for an Alpen Chocolate variant and this latest product taps into the growing chocolate flavour trend, as well as offering more excitement at breakfast time.
Blincow added: "With Alpen Chocolate we've managed to create a delicious, satisfying taste whilst maintaining our important healthy brand values. As the only chocolate muesli sku in market, its sure to be a popular choice."
Alpen Chocolate will be made available to retailers in cases of six next month. Each 550g box will carry an rrp of £2.49 and boast nutritional traffic light information on pack.