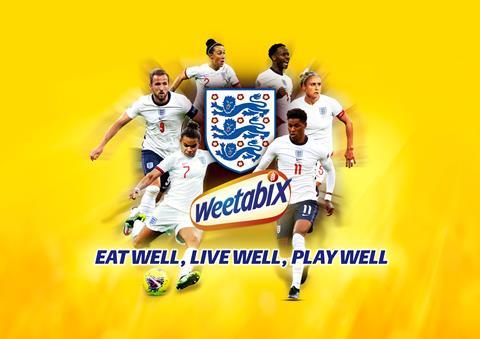 Weetabix Food Company and The Football Association (The FA) have partnered to champion their new 'Eat Well, Live Well, Play Well' initiative.
The partnership will see the brand become the Official Breakfast Category Partner of the England Women's and Men's Senior Teams and lead partner of The FA's girl's participation programme, Wildcats which will be renamed to 'Weetabix Wildcats'.
Weetabix Wildcats is for girls aged 5-11 who want to get involved with football for the very first time or want the opportunity to play with other girls their own age. There are currently over 1,600 Wildcats providers across England, giving girls the opportunity to play football in a fun and friendly environment which provides the perfect setting for girls to stay active, build confidence and meet new friends.
Weetabix and The FA are committed to doubling the number of Wildcats providers by the end of 2024 and will work closely with performance experts at St. George's Park to implement learning about nutrition as part of the Weetabix Wildcats programme.
The new partnership will also focus on Weetabix Original's nutritional credentials, being low in sugar, salt, and fat, as well as high in fibre, helping to support the health of the nation with a strong start to the day.
The partnership will run from April 2021, ahead of two big summers for England's Women's and Men's teams with the UEFA Euro in 2021 and UEFA Women's Euro in 2022. Supporting activity will feature across all Weetabix-branded cereal products, including Oatibix.