Pet food brand Webbox has unveiled its biggest ever rebrand to date, with new look packaging rolling out across its portfolio over the coming months.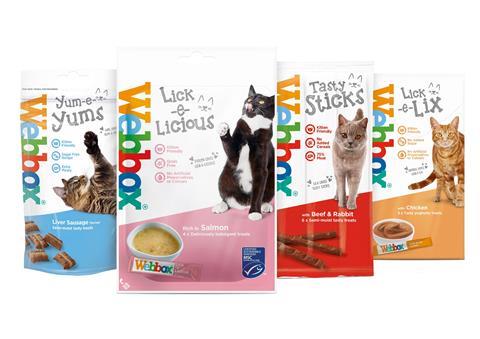 The rebrand is set to re-affirm Webbox's position as a market leader in the pet category and will initially focus on packs of the brand's cat and dog treats.
Julie Butcher, head of marketing at Pets Choice, commented: "We pride ourselves on manufacturing innovative food and treats for cats, dogs and most recently hedgehogs, to enjoy and it was so important to us that our new packaging reflected exactly what we stand for as a brand.
"Fun, inventive and cheeky is the best way to describe our new branding. It's a completely different look and feel for us but one that we're confident encapsulates everything we believe in."
Butcher added: "Webbox has a proven track-record of bringing unique products and formats to the market and the new look will not only command the attention of the consumer on a crowded supermarket shelf, but will also support and complement our existing product range and all product development moving forward."
The Webbox range is available to convenience stores and independent retailers, with prices for treats ranging from rrp £1 - £3.99 and rrp 65p - £4.99 for main meals.