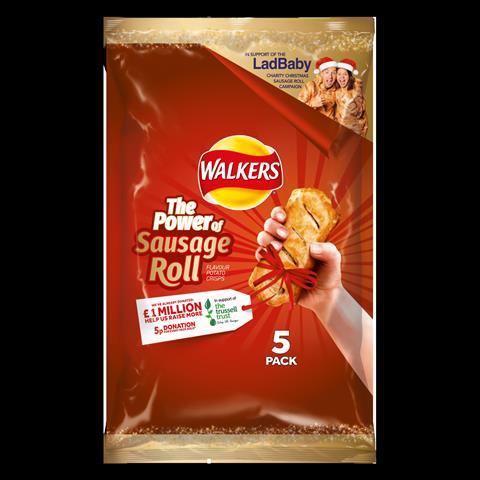 Walkers has launched a festive limited-edition 'Power of Sausage Roll' flavour for the Christmas period, in partnership with LadBaby and the Trussell Trust.
5p will be donated to the charity with every pack sold, as part of the PepsiCo's continued support for the Trussell Trust. The limited-edition packs are available now, with a marketing campaign spanning digital and in-store across November and December.
The LadBaby family have achieved the Christmas number one spot for the past two years with their sausage roll-themed charity songs, with all proceeds being donated to the Trussell Trust.
Senior marketing director Walkers Snacks at PepsiCo Fernando Kahane said: "We all know Christmas will look and feel quite different across the nation this year, but at PepsiCo we want to make a difference and give everyone a special moment over the festive period. When Covid-19 hit earlier this year, we were really proud to pledge £1m in support to the Trussell Trust. We are delighted to continue our fundraising efforts, by partnering with LadBaby & unleashing the 'Power of Sausage Roll' flavour crisps to do good with a 5p donation to Trussell Trust per pack.
"The savoury snacks category delivered an extra £22 million in sales over October to December 2019 vs the rest of the year (Kantar). As the biggest brand in the UK savoury snacks category (Nielsen), we have an engaged audience and so – with the right activation – we hope to get people talking, raise some smiles, and help alleviate food poverty in the UK.
"To support the launch, we are building a fame driving & highly talkable new advert. Our 90-second film centres on a cheeky take on a Christmas classic - featuring a host of celebrity friends – and is sure to get the nation smiling. So, keep your eyes peeled!"