KP Snacks' Tyrrells range is getting a £2m marketing push in the first half of this year, including a new TV ad on screens now.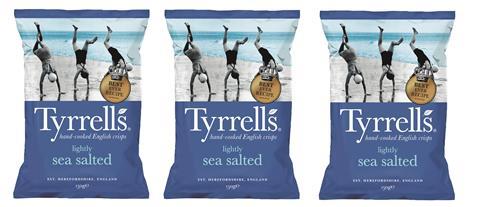 Tyrrells Hand Cooked crisps is back on TV, as well as in print, radio and digital, to continue to drive momentum and awareness among consumers looking for a premium snacking experience for sharing occasions.
The 'Tyrrellbly Tyrrellbly Tasty' TV campaign runs from now until May, taking old Pathé footage and overlaying it with pops of colour, brought to life with the humorous commentary synonymous with Tyrrells and its distinctive packaging. The range will also be supported by print, radio, digital and social media.
Dan Winslet, Global Tyrrells marketing controller, said: "Our campaign is designed to highlight Tyrrells authentic provenance and heritage, all in a humorous and memorable way. Quality is at the heart of the Tyrrells offering, making it the perfect product for consumers looking for a premium sharing experience. The Tyrrellbly Tyrrellbly Tasty campaign aims to raise awareness and drive sustainable value growth."