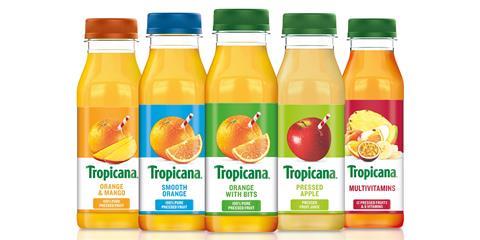 Pepsico is to relaunch Tropicana's on-the-go range with new-look packaging.
In addition to receiving a visual refresh, the bottles will comprise of 50% recycled plastic. The new bottles form part of PepsiCo's journey to make all of its packaging 100% recyclable, compostable or biodegradable by 2025. Phasing in throughout August, they will hit shelves across Grocery, Impulse and Wholesale channels in 250ml PMP and 300ml formats.
Tropicana marketing manager Caroline Wilding said: "Our modernised bottle design has really resonated with shoppers throughout pre-launch testing and our research indicated a +49% increase in purchase intent.
"We know consumers want to make a positive difference through their consumption, and they're increasingly seeking out those brands that are leading the way on causes they care about."