As part of a host of limited edition announcements for the brand this year, Tilda is launching a ready-to-heat Jambalaya into the UK pouched rice category.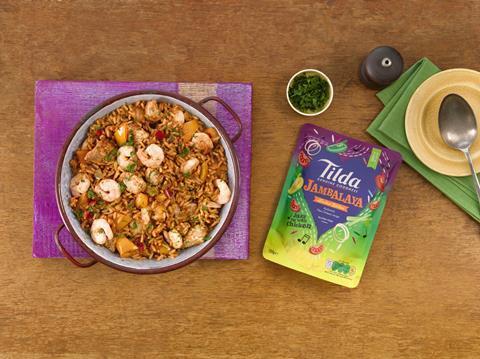 Available for a limited time to c-store retailers, the one-pot dish originates from New Orleans and is made using Creole and Cajun cooking (celery, onions and bell peppers), long grain rice and spices.
The pouched rice product (rrp £1.59 / 250g) can be cooked in two minutes and is suitable for vegetarians, vegans, those with a gluten intolerance and also contains no artificial colours, preservatives or flavourings.
Anna Beheshti, brand lead at Tilda, commented: "Tilda remains at the forefront of innovation and we are constantly looking at new food trends that have the potential to create consumer excitement and ultimately drive brand and category growth. We've been introducing limited edition skus for a number of years and it's been a great vehicle to show thought-leadership, drive household penetration and test new exciting flavours.
"Market analysis highlights that there is growing demand for American inspired cuisine both in and out of home, we hope that the launch of Jambalaya will help to bring new buyers to the category and continue with our mission to share a range of on trend products inspired by authentic dishes and flavours," Beheshti added.