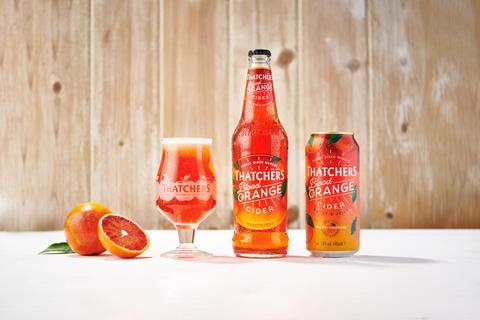 Family cider maker Thatchers says it is tapping into the flavour trend for this year and introducing Thatchers Blood Orange.
Alongside a new TV campaign, the launch of Thatchers Blood Orange will be supported by a multi-million pound investment, with a digital, broadcast video, billboard, sampling and activation programme.
Rolling out in stores from the end of February the new product will be available in a 500ml bottle with an RRP of £2.30, and a four-pack of 440ml cans at £5.50.
"Packed with sweet, juicy flavour, Thatchers Blood Orange will tease the taste buds and quench the thirst," said fourth generation cider maker Martin Thatcher. "All our ciders are made with the same deep-rooted responsibility that comes with 117 years of cider making here at Myrtle Farm.
"This is a juicy addition to the growing Thatchers Cider family, attracting a new generation of cider drinkers.
"With the blood orange flavour yet to make its mark in cider, Thatchers Blood Orange will cut through a cluttered fruit cider category, whilst introducing new shoppers into cider."
Research conducted by Mr. Qual online suggested 95% of 18–39-year-old cider drinkers were excited about new flavours in fruit. Thatchers hopes its new flavour will tap into this market and give the younger generation something to enjoy.
Thatchers Blood Orange, 4% abv, is crafted with naturally sweet dessert apples, Braeburn, Fuji and Gala, selected for their sweetness, aroma and quality.