Tetley is investing millions in its Cold Infusions range with new products; new formats; and a programme of marketing and in store support starting from this month.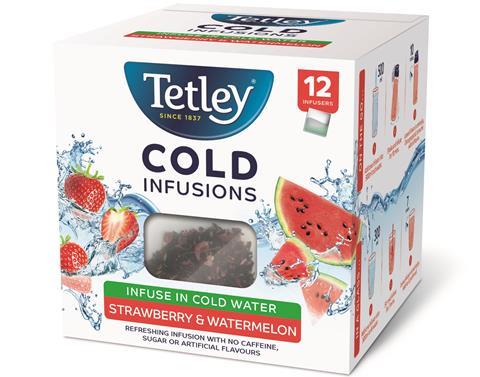 The first change for the fruit and herbal cold teas includes the launch of new flavour strawberry and watermelon. Available in packs of 12, the new sku has an rrp of £2.49 and is made with no caffeine, sugar or artificial flavours.
To boost convenience and on-the-go sales, Tetley is also introducing a new clip strip carrying 12 packs of three infusions (rrp £1 per pack).
Two flavour formats will be available - one featuring the brand's most popular flavour cranberry & raspberry flavour and another mixed variety strip with cranberry & raspberry; mint, lemon & cucumber; and passion fruit & mango.
The smaller packs of three infusions are also being rolled out in a shelf ready tray carrying nine infusions. The format will be available in the same flavour options as the new clip strips (rrp £1 each) .
Changes are also being made to Tetley's Cold Infusions starter kit. The kit will now come in smaller packaging that takes up less space on shelf. Packed in units of six per case, the starter kits have an rrp of £6.99 each.
Cassie Shuttlewood, marketing manager for Tetley Cold Infusions, said: "Tetley is one of two major brands in this area and as distribution and awareness grows it looks set to be an exciting summer for Cold Infusions. This is our second summer season for the range which has already delivered over £0.8m in sales in 12 months.
"The offer of an easy, tasty and healthy way to maintain hydration levels has captured shopper interest and the new flavours and formats will help to keep the offering fresh and relevant. Sales and distribution of Cold Infusions have been growing steadily since launch and with sales established in the multiples, convenience and wholesale customers are beginning to explore the potential of this exciting new category."
Tetley's marketing support for Cold Infusions will run throughout the summer with live events, sampling, print, outdoor and social campaigns taking place across the UK, focusing particularly on health, women's and lifestyle media.
Retailers will be supported with in-store promotions and secondary sitings advice, including branded shippers and pop up units.