Sun Valley is shaking up the on-the-go snacking market with the rollout of its Nuts For range: a new collection of savoury and sweet nuts inspired by British punk.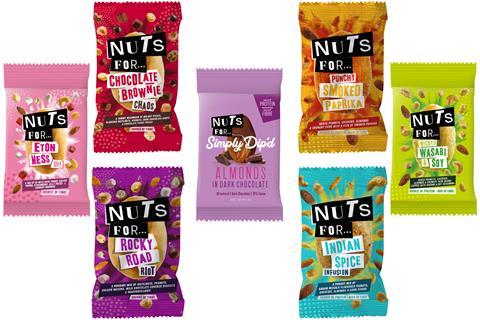 Designed to attract shoppers searching for "snacks with stand out", the range comes in single serve 35g grab-and-go bags with an rrp of £1.29 each (sold to retailers in cases of 15).
The Nuts For portfolio is available to stock now in seven variants, including four sweet lines: Rocky Road Riot; Eton Mess Up!; Chocolate Brownie Chaos; and Simply Dip'd Chocolate Almonds (30g bag).
The brand also offers three savoury flavours: Punchy Smoked Paprika; Indian Spice Infusion; and Wicked Wasabi & Soy. Each one features a mix of roasted peanuts, almonds and cashews with added ingredients for texture and flavour.
Alison Robson, marketing manager at Sun Valley Nuts, said: "The UK snacking market may be in the ascendancy, with three quarters of consumers indulging each day (The Grocer 2018), but despite its success, it's a category arguably suffering from a lack of interesting combinations and real personality.
"It's high time that the UK went nuts for snacks that don't follow the status quo. Twinning unique and delicious flavours and textures, the Nuts For range has been designed as a noisy and exciting backlash to conventional on-the-go options, helping wake UK shoppers from a snacking slumber."