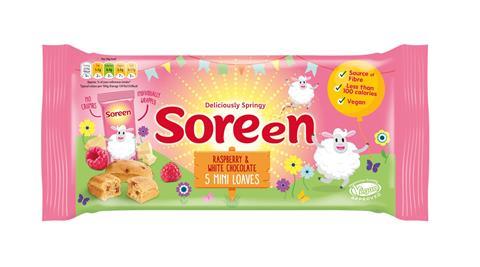 Soreen has announced its new Limited Edition Mini Loaves.
Raspberry & White Choc and Gingerbread, both of which are vegan, contain less than 100 calories per bar and are available in packs of five loaves.
Marketing director at Soreen, Liz Jacobs, said: "In the build-up up to Easter, which is traditionally a time of indulgence, we tend to find that parents are interested in healthier choices for their children.
"Our brightly coloured packaging and tasty limited edition flavours, offers families a healthier option at Easter. Each Mini Loaf is under 100 calories, low in saturated fat and individually wrapped with no crumbs, creating the -perfect on the go snack for kids.
"Our Spring Mini Loaves also contain no reds in their nutritional traffic lights. We took the decision to feature the traffic light nutritionals on the front of our packs in 2017 to make it easier for parents to make healthier choices."