Smirnoff has unveiled two new fruit-flavoured spirit drinks which are available now across the UK.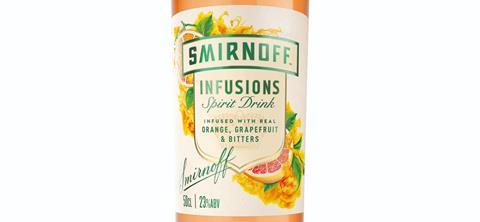 Smirnoff Infusions (23% abv) - made from Smirnoff Vodka and infused with real fruit essence and natural ingredients - is available in two variants: Orange, Grapefruit & Bitters, and Raspberry, Rhubarb & Vanilla.
Smirnoff marketing manager, Sarah Shimmons, said "Smirnoff Infusions is an exciting new addition to our portfolio in Great Britain, and looks to tap into the growing demand from consumers for great tasting drinks with a real depth of flavour.
"The process sees real fruits infused and distilled individually for the perfect amount of time to allow their natural flavours to be extracted. The resulting Spirit Drink is blended with Smirnoff No. 21 Vodka and crafted at 23% ABV, to ensure the perfect balance of natural and fruity flavours at the heart of the liquid, with good spirit cut-through."
Smirnoff Infusions (50cl) can be stocked by retailers across all channels nationwide with an rrp of £14.