Smirnoff is rolling out an updated packaging design across its entire vodka portfolio.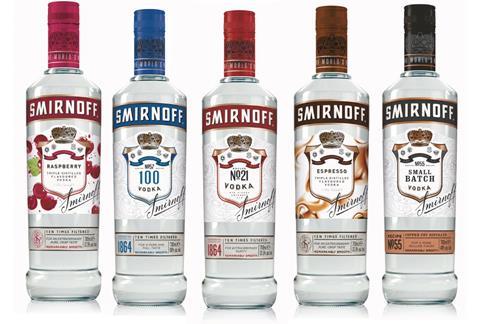 The brand has redesigned its packaging across all Smirnoff Vodka variants, including Smirnoff Raspberry Vodka, Smirnoff 100 Proof Vodka, Smirnoff Espresso Vodka and Smirnoff Small Batch Black Vodka.
The new packaging draws on inspiration from previous bottles in the brand's history, with clear visuals and the return of the Smirnoff shield – featuring prominently across all of the updated bottles.
Smirnoff brand manager, Oliver Clements, said: "We are proud to introduce a new packaging design for the brand, striking a balance between classic and contemporary. The redesign heroes the extraordinary heritage that the brand is famous for, with the reintroduction of the Smirnoff shield and the new label highlighting the traditions behind the world's number one vodka."
The new bottles (37.5% abv) will be available to independent retailers, with an rrp of £15.