Seabrook Crisps is boosting its crisps portfolio by bringing back its Pickled Onion flavour.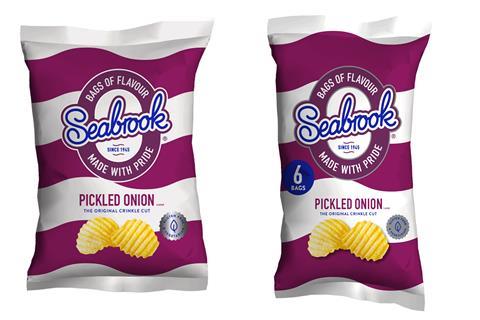 After being discontinued several years ago, the variant is being brought back to Seabrook's Crinkle Cut range following requests from consumers.
Jon Wood, commercial director at Seabrook Crisps, said: "We're always keen to hear what fans of the brand have to say, and given there was such a demand on social media for Pickled Onion to be re-introduced, we're very happy to bring back this classic favourite.
"It's important to listen to customer feedback, and the great thing about social media is it allows us to interact instantly with more people than ever before to get their thoughts and opinions on what we're producing. We're really noticing a trend in popularity of retro flavours and Pickled Onion is one of the most requested flavours to be brought back ever so we're delighted it will be hitting the shelves again."
Seabrook's Pickled Onion crisps are available to independents nationwide via the wholesale channel (sold in cases of eight and in multipacks of six x 25g bags).
The flavour will join the brand's existing core Crinkle range which includes: Sea Salted, Sea Salt & Vinegar, Cheese & Onion, Cream Cheese & Chive, Beefy, Prawn Cocktail, Canadian Ham, and Lamb & Mint.
Following demand from high-profile influencers, such as One Direction's Zayn Malik, Seabrook is also looking to bring back another discontinued flavour: Tomato Ketchup. A new and improved version of the product is currently being trialled.