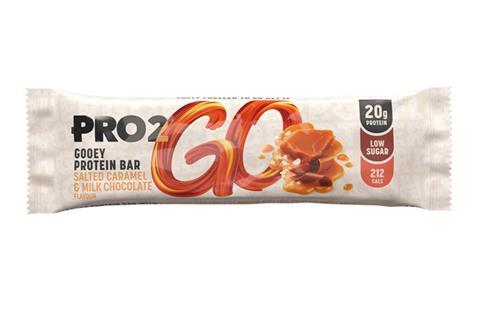 Sci-Mx Nutrition has unveiled its new brand Pro 2Go, which is designed to offer high protein products that appeal to the health conscious.
The range, which will launch into Spar stores this week, includes: gooey bars; raw bars; flapjacks; and bakes. All products will be supported by a £5m media plan this year, to drive awareness of the new brand in stores.
Steve Rich, sales & marketing director for Pro 2Go, said: "People are becoming increasingly aware of the importance of wellbeing in their lives and the physical and mental benefits that can be attributed to nutrition and exercise, to the point that health is now lifestyle. The snacking space is becoming much more sophisticated as consumers seek out products that support their lifestyle, ensuring their choices contribute to help meet their overall health demands."
"With our heritage in protein and extensive research into today's lifestyle category, we have created PRO 2GO to appeal to consumers that want healthy and accessible high protein snacks that meet their needs throughout the day."
The Pro 2Go 60g gooey bars are low in sugar (2g), high in protein (20g) and feature a liquid centre (rrp £2.49). The brand's 50g raw bar range is vegan and contains fewer than 200 calories per pack (rrp £1.99).
The Pro 2Go 50g flapjacks are also high in protein and are made using gluten-free oats (rrp £1.29). Meanwhile, the brand's 30g bakes range offers consumers a savoury option, that is gluten-free and contains less than 120 calories (rrp 89p).