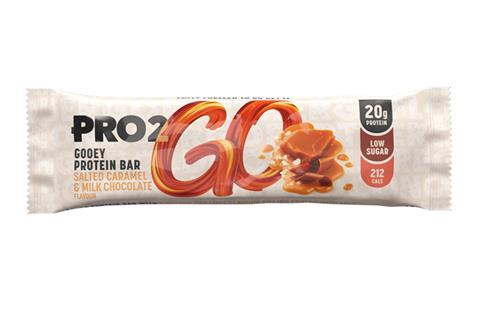 Sci-Mx Nutrition has unveiled its new brand Pro 2Go, which is designed to offer high protein products that appeal to the health conscious.
The range includes: gooey bars; raw bars; flapjacks; and bakes. All products will be supported by a £5m media plan this year, to drive awareness of the new brand in stores.
The Pro 2Go 60g gooey bars are low in sugar (2g) and high in protein (20g), featuring a liquid centre (rrp £2.49). The brand's 50g raw bar range is vegan and contains fewer than 200 calories per pack (rrp £1.99).
The Pro 2Go 50g flapjacks are also high in protein and are made using gluten-free oats (rrp £1.29). Meanwhille, the brand's Pro 2Go 30g bakes range offers comsumers a savoury option, that is gluten-free and contains less than 120 calories (rrp 89p).