Roughs from Satisfied Snacks is making its move into the UK snack market with an all-new range of crisps made with no potato, corn, wheat, rice, oil or added sugar.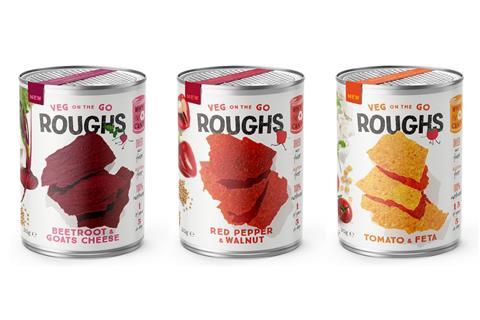 The new snacks contain at least 1 of your 5 day and less than 100 calories per serving. The Roughs products are also high in fibre, 100% natural and come in packaged in plastic free metal cans.
Flavours include: beetroot & goat's cheese; tomato & feta, red pepper & walnut (vegan), and zingy carrot & kimchi (vegan). All varinats are handmade in the UK.
Satisfied Snacks founder and ceo Dr. Heather Daniell said: "Driven by the lack of healthy and tasty snack options I had to choose from – I created a solution which is delicious, convenient to eat on the go, packed full of healthy and natural ingredients and doesn't make any compromises."
The Roughs range is available now with an rrp of £1.79 per 20g can.