Rockstar and Xbox have unveiled plans to launch their largest fan-inspired gaming promotion to date in support of the upcoming release of video game Gears 5.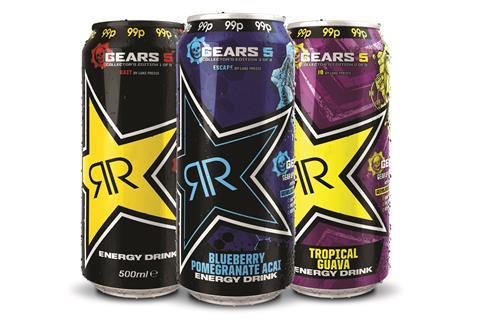 The on-pack tie-up will roll out from September and run across Rockstar Original, Xdurance and Punched Guava variants.
Available in 500ml plain or 99p pricemarked versions, the can collection will feature original designs from UK-based illustrator Luke Preece (sold to retailers in outers of 12).
In addition to offering daily prizes of consoles and games, the promotion will give gamers the chance to unlock exclusive in-game items and free Xbox game passes by entering ring pull codes at www.gears.rockstarenergy.com/gb.
Adrian Troy, marketing director at Barr Soft Drinks, commented: "Gaming is massive amongst energy drinkers. With almost 40 million gamers in the UK, driving a market worth almost £6 billion, the gaming community has evolved way beyond teenagers to include more mature consumers with higher levels of disposable income. Significantly, many of them are now choosing food and drink with gaming in mind (Harris Interactive Survey, June 2019)."
"The build-up to the launch of Gears 5 is massive and we're confident that our partnership will capture the imagination of the UK's gaming community. We're delighted to be partnering with Xbox on such a huge launch."
Gear 5 is the fifth instalment in the billion-dollar game franchise Gears of War. To support the game's launch and drive sales during the on-pack promotion, AG Barr will be distributing bespoke POS materials to convenience stores.
Troy continued: "Previous Rockstar on-pack promotions have seen huge success, with the Gears 4 promotion in 2016 growing sales by over 100,000 cases (AG Barr Sales Data), so this is a great opportunity for retailers to drive incremental sales of energy drinks."
Xbox Gears global brand lead Nicole Fawcette added: "We're so stoked to be partnering with Rockstar Energy once again on another artist series for Gears."