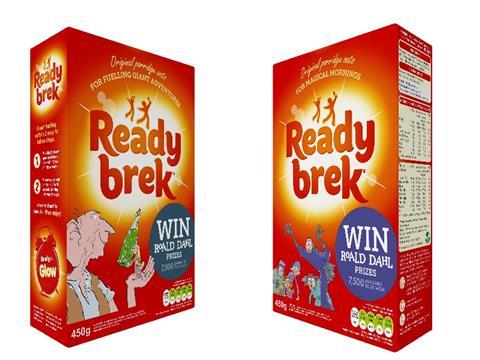 Ready brek is partnering with Roald Dahl to bring his characters to breakfast tables with the release of limited-edition packs.
Available on-shelf from January to March 2022, four of Roald Dahl's biggest titles; The BFG, Matilda, James and the Giant Peach and The Witches, will feature on-pack alongside a new promotion.
Ready brek is giving families the chance to win Roald Dahl merchandise - with 7,500 prizes (worth £200,000), including box sets of books and crockery sets, up for grabs. A microsite will also host free Roald Dahl activities.
Ready brek is supporting the launch with a £100,000 shopper activity investment. This includes digital activations and eye-catching point of sale to bring the world of Roald Dahl to life in-store and online. Consumer social media campaigns will run across the Ready brek and Roald Dahl channels, climaxing around World Book Day on 3 March.
Ready brek's Limited-Edition Roald Dahl packs will be available across the Ready brek range (excluding PMP) in grocery, convenience and wholesale. The partnership will return with a new promotion in autumn 2022 ahead of the next porridge season.
Marketing controller Alastair Porter said: "A Roald Dahl book is sold every 2.6 seconds and these well-loved children's characters are a brilliant match for your morning bowl of Ready brek.
"Roald Dahl is immensely popular with families, with a 98% awareness rate. This partnership aims to ignite some love back into the brand and category, increasing our reach to families and introducing new consumers. As a result, we're expecting a sales boost for Ready brek, adding incremental value to the rest of the category."