Premier Foods is rolling out a larger 100g pot format across its Batchelors 'Super Noodles' range.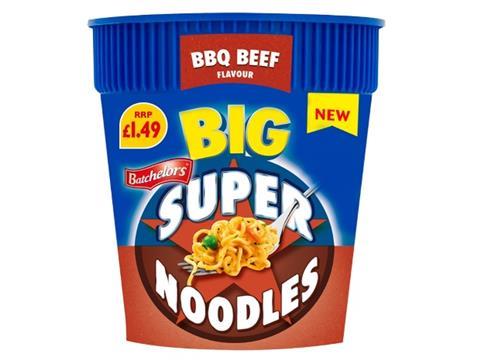 This move follows the launch of BIG Pots into its 'Pasta 'n' Sauce' range last October. Available in three Super Noodles flavours – Chicken, BBQ Beef and Curry – the pots aim to help meet the demand for more filling meal solutions.
According to IRI data, pots within the quick meals category are worth £43m a year and experiencing +16% growth year-on-year.
Adam Woolf, brand director for quick meals, snacks and soups at Premier Foods, said: "Our new BIG Pot format has helped us to enrich the range and will attract a different shopper to the category. Larger pots tend to be bought by younger people, predominantly males, versus the core range. With the move towards more filling pot snacks only expected to grow further, our latest offering allows retailers to give consumers convenient options from a brand they know and trust. With our Super Noodles Chicken Pot now the sixth biggest pot SKU in the category, it was a natural choice to add the flavour to our 'BIG' format, alongside our other best-selling pots."