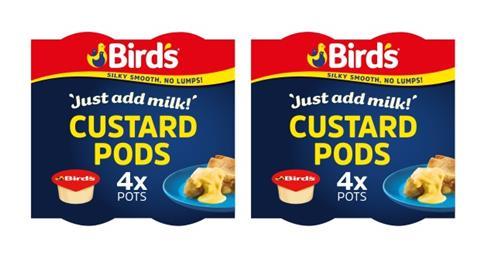 Premier Foods is to expand its ambient desserts offering with the launch of Bird's Custard Pods, in addition to a relaunch across its Ambrosia Deluxe range.
Available now, Bird's Custard Pods (rrp £1.5) offers shoppers a convenient new way to make smooth, lump free custard every time, by simply adding milk or a milk alternative to the new wet pod format.
The Ambrosia Deluxe range will also see a fresh design and new recipes.
Ambrosia is also being supported further with its Moley character back on TV screens from mid-October. Moley is taking pride of place on an on-pack promotion across the Ambrosia Devon Custard and Ambrosia Rice Pudding cans, offering consumers the chance to win 1,000s of Moley cuddly toys in the run-up to Christmas. The on-pack promotion will also have in-store support across retailers and the TV creative will be back on air from mid-October, through to early January.