Pladis has launched a new premium range to capitalise on the growth of everyday treat biscuits.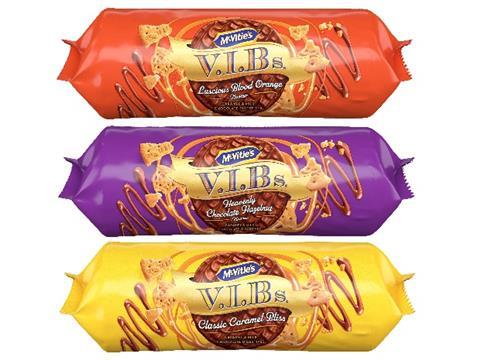 McVitie's Very Important Biscuits, or V.I.Bs are available in three flavours – Classic Caramel Bliss, Heavenly Chocolate Hazelnut and Luscious Blood Orange. The range will be available to independent retailers from the end of August
Brand director for McVitie's at Pladis UK&I Emma Stowers said consumers are looking for more everyday treats.
"We're seeing a huge opportunity to encourage shoppers looking to make snack-time a little bit special to trade-up," Stowers said. "But at present, shoppers on the look-out for special biscuits are likely to have to spend up to 200% more than they do on everyday treats[1], so we're setting the RRP for V.I.Bs very competitively, providing even more incentive to trade-up at the same time as making them affordable enough to enjoy on a regular basis, whilst still feeling premium."
The range's launch will be supported with a splash across social media with a 'Very Important Biscuits, Very Hard To Describe' campaign, whereby shoppers will be encouraged to describe the biscuits on their social channels.