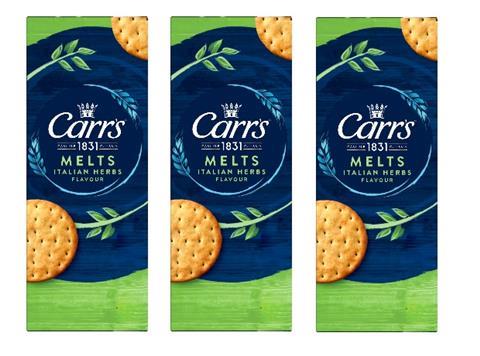 Pladis has added a new Italian Herbs flavour to its Carr's Melts range.
Carr's Italian Herbs Flavour Melts will be available in 150g boxes (RRP: £1.59). Packaging will be recyclable through pladis' partnership with Terracycle (www.terracycle.co.uk).
The launch will be supported by a total Carr's £2.5m Crack On marketing campaign, which will comprise of activity across social, PR, sampling and summer experiential events including Pub in the Park.
"The irresistible meltability, crisp cracker and deep flavour of our Carr's Melts range has helped it to win over shoppers who are looking for quality snacks which deliver on taste," said Leighton Wall, marketing director – savoury, at pladis UK&I. "We're confident that the product will be a hit amongst existing Carr's Melts fans, as well as new shoppers looking to shake up their savoury snacks – whether they're nibbling on the crackers straight from the box or piling them high with their favourite toppings."