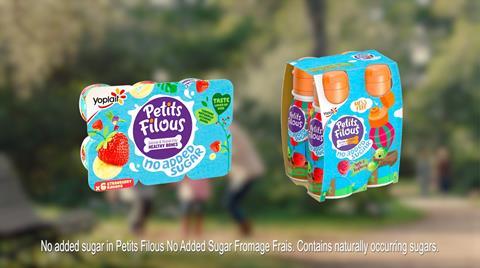 Petits Filous is bringing its No Added Sugar Pots and Mess Free Drinking Yogurt range to TV screens.
The ten-second TV creative, airing until 10 October, shows children playing both indoors and outdoors, while singing 'No Added Sugar' with the range featured as a snack that provides them with Calcium and Vitamin D to help their bones grow, along with their sense of imagination.
The £1million investment is expected to reach 64.1% of UK parents with kids across TV and shopper activity throughout September and early October. The kids' yogurt brand is also partnering with Netmums, the UK's biggest parenting website.
Head of marketing, Yogurt (Northern Europe) at General Mills, Joanna Goodman said: "Loved by kids, our No Added Sugar range is the perfect anytime snack and demonstrates our commitment to reducing sugar in kids' diets by delivering a great-tasting product with important health and nutritional benefits.
"The launch of Mess Free No Added Sugar drinking yogurt provides parents with a great on-the-go snack option, building on the huge success of the Mess Free format which is now worth £5.7m and growing +59.6% YOY. With our new TV advert and campaign, we're confident we'll see even more success for our No Added Sugar range!"