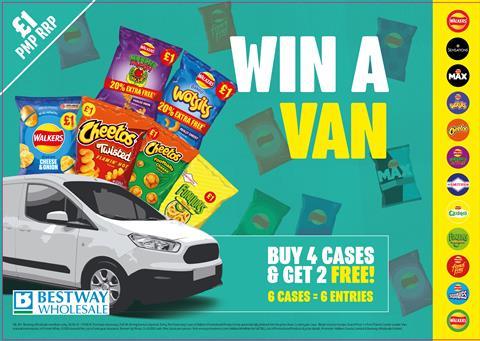 PepsiCo has partnered with Bestway for a promotional campaign offering retailers the chance to Win A Van.
The campaign gives retailers the chance to win a Ford Transit Courier Leader Van 1.5L. Retailers simply need to purchase one case of PepsiCo's £1RRP PMP line-up to be automatically entered into the prize draw. One case is equal to one entry. The campaign closes on 17 June, and will feature in-depot materials and retailer-targeted advertising.
Wholesale trading director at PepsiCo Matt Goddard said: "Over the past year, independent retailers have been working non-stop to keep their communities running. Our Win A Van initiative is part of a series of activations that we've launched over the last year, all of which have been launched to give something back to our customers.
"Over the past year, we have continued to speak consistently with store owners and wholesalers through adapted avenues due to the pandemic restrictions. What was made clear to us was the constant demand from shoppers for value. This has impacted the demand for RRP price marked packs, which became the top contributor to the savoury snacks category growth last year. Growing at +16.3%, we've made sure that our £1 RRP price-marked sharing formats will be the main focus of our Win A Van campaign. Not only does this initiative centre on products we know are the engine driver for savoury snacks category growth, but it also offers retailers the chance to win a huge prize for their store."
Bestway Wholesale managing director Dawood Pervez added: "We are delighted to be partnering with the Walkers brand again to offer another great incentive to our customers. As the UK's largest independent wholesaler, supporting over 40,000 retailers, we are always looking to work with partners to grow categories and add value for our customers. 'Win A Van' is an excellent initiative to reward retailers while driving the latest savoury snack category trends and sales."