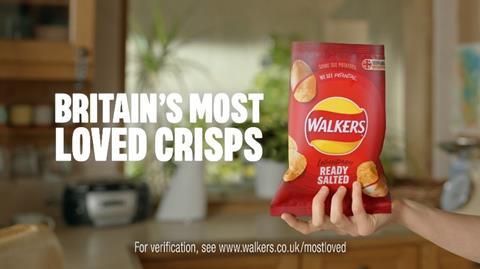 Walkers has launched a new campaign to celebrate the nation's love and appreciation for its range of crisps.
Bringing its full snacks range together for the first time, the campaign aims to remind consumers that its diverse offering – which includes crisps, snacks, ridged, and baked – appeals to the many trends and occasions currently seen across the market.
The new campaign will be supported with a multi-million TV and digital campaign. The advert demonstrates how different people enjoy the assorted range in a unique way, with some licking before crunching, while others choose to mix in a special sauce or add crisps into a sandwich.
Senior marketing director for Walkers Snacks at PepsiCo Fernando Kahane said: "We realise how much the nation has missed their favourite crisps, and the launch of our new advert recognises this by celebrating the enjoyment that the Walkers portfolio provides.
We are incredibly thankful to our retailer partners and shoppers for continually demonstrating their love for our brands. No matter how you enjoy your crisps, there really is a Walkers flavour for everyone, and we're so pleased that consumers can now get their hands on many of our SKUs that they know and love."