Patlock has given its product packaging a refresh to coincide with a new autumn and winter ad campaign, which features former professional boxer Frank Bruno.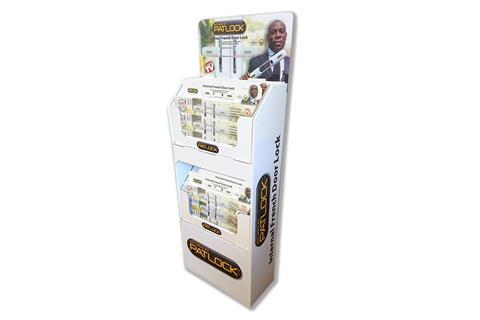 The company has also created single shelf and free standing promotional units to display its lock-based deterrent - a product designed to stop intruders from breaking into a domestic home.
The new packaging and display design incorporates imagery from a new TV advert, running from October to December and during the Christmas and New Year period.
The rollout follows recent success for Patlock in the convenience channel and the TV ad campaign will be supported by digital marketing and social media activity, also featuring Frank Bruno.
The brand's French door handle lock is available to independent retailers now (rrp £65) and secures almost all double door handles, safeguarding against lock snapping.
Paul Keighley, md at Rectella International, said: "A packaging refresh will allow us to grab the attention of security-conscious shoppers, who want to secure their properties as the clocks go back and the darker winter months arrive. It's our mission to provide homeowners across the UK and Ireland with that extra peace of mind when leaving their property unattended."
"We hope to secure further retailers this year and support the hardware and do-it-yourself retailers that currently stock the product. Our new display units will showcase Patlock and its USP, while highlighting its convenience and ease-of-use."
For more information about stocking Patlock, contact sales@rectella.com.