Old Jamaica is bringing back the Golden Hour this summer with the launch of a brand-new campaign utilising augmented reality (AR) technology.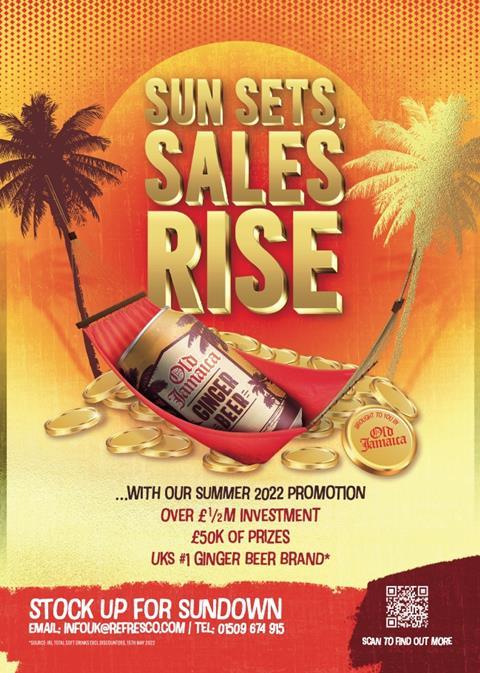 The fully integrated campaign follows a £500k investment by Refresco UK, the bottler and distributor of Old Jamaica, and sees the brand focusing on the Golden Hour period of 5pm until 7pm, when its hero product, Old Jamaica Ginger Beer, is most commonly consumed.
Launching in August and running for five weeks, the campaign is running across both consumer and trade channels.
As part of the campaign, a bespoke AR filter is being developed that will allow entrants to 'discover their sunset vibe' via their mobile phones. The filter will determine each user's sunset vibe and determine their prize from a range, including daily prizes for outdoor relaxing and over 20,000 free and half price coupons redeemable against the Old Jamaica range. All entrants will also be entered into a grand prize draw to win £10,000 to enjoy their ultimate golden hour moment.
For trade customers Old Jamaica is also offering the first 100 customers who purchase a case of Old Jamaica, a free promotional POS kit to drive sales and visibility, a 1 in 5 chance to win a four-case hero package of Old Jamaica drinks, and 10 store owners will also win £500 store credit or vouchers to spend on Old Jamaica Ginger Beer at UNITAS.
Joe Major, head of marketing at Old Jamaica (Refresco), said: "Unlike previous campaigns this year we have really focused on bringing something new to our summer campaign. For 2022, not only are we launching our first ever AR filter-based promotional mechanic, but we're also really focusing on engaging our trade customers too.
"And in a time when many of us really need something to look forward to, we're offering people the chance to win prizes that will enable them to turn their Golden Hour into something special. It was vital to us that we started to push in a new direction, whilst still supporting retailers with driving footfall, visibility and sales."