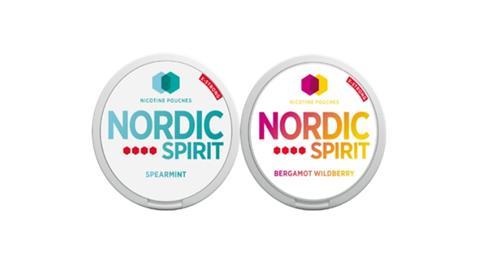 Nordic Spirit is expanding its portfolio with the launch of a new flavour, Spearmint, and a new extra-strong nicotine strength variant for Bergamot Wildberry.
The brand-new flavour from Nordic Spirit also offers retailers the first ever Spearmint flavour in the category in an extra strong nicotine strength.
According to IRI data, mint flavours already account for 77.6% of the nicotine pouch category. The new strength Bergamot Wildberry is designed to cater to growing customer appetite for fruit flavours. The products will be running at 20% POR and have an rrp of £6.50.
Head of marketing at JTI UK, Mark McGuiness, said: "Retailers can now stock a full range of Nordic Spirit flavours to ensure that every customer's taste is catered for, whether they prefer menthol flavours such as Mint and Spearmint or fruit flavours like Elderflower and Bergamot Wildberry. With Regular, Strong or Extra-Strong strengths available across these flavours, retailers can offer something for everyone and capitalise on the category's potential."