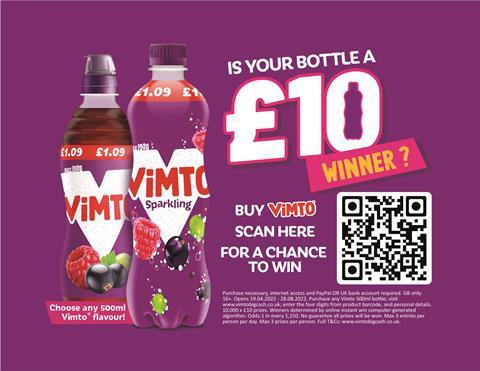 Nichols plc is extending its Vimto range with two new flavour formats, as well as launching the Vimto Big Cash Giveaway campaign.
Sparkling variants Vimto Cherry, Raspberry & Blackcurrant will be available in both 2L and 500ml bottles from April. Initially launched as a limited-edition squash flavour in 2021, Vimto Cherry, Raspberry & Blackcurrant will now bolster the wider Nichols plc flavoured carbonates range
New Vimto Blackberry, Raspberry & Blueberry 500ml Stills format will also be available from April. The flavour blend was first introduced in 2021 within the Vimto squash range, and will now be available in an on-the-go format.
As part of the Nichols plc ambition to drive shopper engagement and category value, Vimto's Big Cash Giveaway, gives shoppers the chance to win a share of £100k, will be running from 19 April until 28 August in independents, managed convenience and wholesale. The activity will offer shoppers the chance to win £10 with any 500ml bottle across all flavours of the Vimto Stills & Sparkling ranges via QR codes on POS and social media.
Marketing manager at Nichols Jenny Powell said: "As category disrupters within soft drinks, it's vital that we're consistently reviewing our portfolio to ensure we're offering options that are both popular with our consumers and fit within our unique and distinctive flavour profiles. The addition of our new Vimto Cherry, Raspberry & Blackcurrant Sparkling and Vimto Blackberry, Raspberry & Blueberry Still formats come at the perfect time, as these variants will help us in our mission to tap into the emerging consumer trends of healthy hydration and flavour exploration to help retailers grow incremental sales."