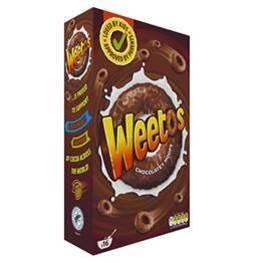 Weetos is to undergo a packaging refresh in March.
Rolling out from the 1 March across grocery and convenience, Weetos revamped pack design will be across all SKU's- 500g, 350g and a £2.69 350g PMP
With a view to providing families with even more assurance at point of purchase, prominently placed on the front of its new packs is a 'Loved by kids, approved by parents' sticker; the latest shopper insight reveals nine out of 10 kids love, and eight out of 10 parents would recommend Weetos.
The refreshed packaging also outlines the brand's sustainability credentials, with all cocoa used for the wholegrain cereal certified as sustainable by UTZ.
To support the new look, brand owner The Weetabix Food Company is investing in further field sales support for retailers.
Head of brand at Weetos Helena Blincow said: "The new look is clearer, bolder, and allows the range to stand out on fixture, whilst ensuring it remains recognisable to our base of loyal consumers. Weetos is rising fast in the tasty cereal category, aligned with the continued trend for all-things chocolate, so we'll be supporting retailers further in the year ahead to guarantee it's on their 'must-stock' lists.
"We're proud to announce that all of the cocoa used in Weetos is now sustainable and clearly communicate this on our new packs, as well as calling out some of our trusted health credentials. With no red traffic lights Weetos are high in fibre, low in salt and fortified with vitamin D, B12 to help release energy and iron to maintain alertness, meaning Weetos are a great way to start the day or as a snack."