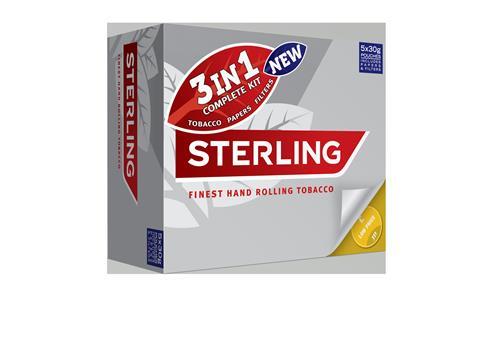 JTI is to change its Sterling Rolling Tobacco 3-in-1 Box to a new pouch format, in response to the growing demand for more convenient alternatives.
Currently, mini pouch tobacco is highly compressed, and the box format and size makes it difficult for adult smokers to carry on-the-go. The new format aims to provide a more portable option for existing adult smokers. The pouch provides a full rolling kit including 30g tobacco, 100 papers and 77 filter tips that is easy to carry.
The pouch remains at the same rrp of £12.30.
JTI added that the new product will also benefit independent retailers, with a lower trade outer cost versus the box format. Retailers will also have the opportunity to tap into the Sterling Rolling growth fuelled by pouch formats as well as the general growth of value rolling tobacco itself, which currently holds a 46.3% share of the UK's RYO category.
Brand manager of conventional tobacco products at JTI UK Dan Legate said: "The Sterling Rolling Tobacco 3-in-1 Pouch is a really exciting transition for the Sterling family of products, especially now that Sterling Rolling Tobacco is the UK's fastest growing tobacco brand. The pouch aims to alleviate issues surrounding convenience and portability for the consumer, whilst staying true to Sterling's reputable quality. We're confident that the pouch will meet this consumer demand and become a strong driver for future Sterling Rolling growth."