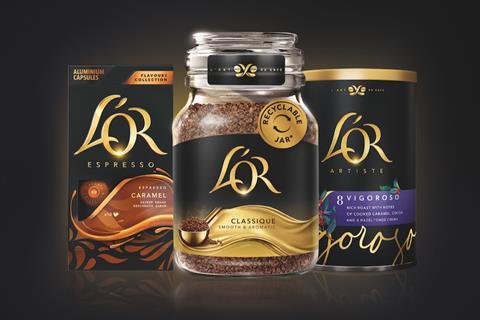 Jacobs Douwe Egberts is introducing three new L'OR ranges across multiple categories - Instant coffee and Nespresso Compatible Capsules. L'OR Artiste, new L'OR Instant Jar and L'OR Flavours Collection Aluminium Capsules are launching this month across grocery, convenience and DTC channels.
The brand, which pioneered the use of coffee tins with Kenco Millicano, is elevating this further with L'OR Artiste (Individual Tin 95g, RRP of £6.39). The two variants include Vigoroso, with notes of cooked caramel and cocoa, and silky Delicato with a subtle almond and cookie-like aroma.
The brand is also moving away from its legacy lipstick jar and introducing refreshed packaging with a new recyclable glass jar. The range is now fully recyclable through household waste collection in the UK as a result of removing black plastic and offering a more premium and sustainable jar, with a 6% carbon footprint reduction.
The range includes three variants in two different sizes: L'OR Classique, an aromatic coffee with smooth, round notes; L'OR Intense, a deep roasted flavour with a hint of zest, and L'OR Decafeine, a delicately balanced, yet intriguingly aromatic flavour (100g: Individual Jar RRP of £5.89; 150g: Individual Jar RRP of £7.29).
The new L'OR Flavours Collection Nespresso Compatible Capsules, is available in three flavours: L'OR Chocolate, L'OR Caramel and L'OR Vanilla (RRP of £3.59, 10 capsules in a pack, 10 packs in a case).
Roberto de Felice, marketing director at Jacobs Douwe Egberts, said: "This marks a significant year for L'OR as we continue to create quality product experiences to support our retail partners as the coffee market continues to grow and remain relevant to consumers.
"As industry leaders, we believe in the power of innovation linked to a strong understanding of market trends. Best quality coffee, indulgence and, of course, sustainability, are all at the forefront of consumers' minds when it comes to the brands they choose to purchase in store. L'OR continues to be the standard for quality coffee experiences across all key coffee categories, and these new ranges strengthen existing consumption occasions, as well as unlocking new ones to drive category growth."