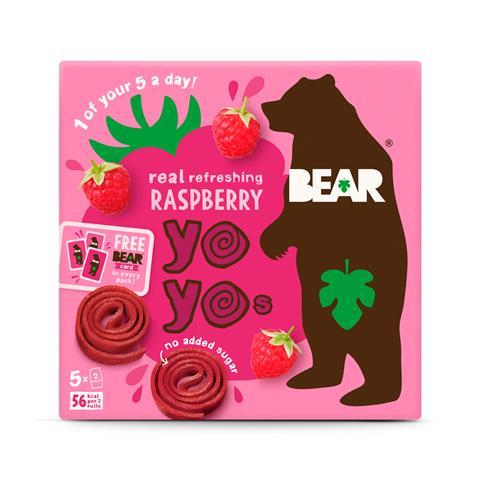 BEAR has revealed a new look across its bestselling Yoyos range.
Available now, the refreshed packaging will focus the fun, taste and health credentials of the BEAR Yoyos products to better resonate with both parents and kids.
The new BEAR Yoyos packs will include the full core flavour range, across family packs, multipacks and singles.
Across the brand's five core Yoyos flavours (Strawberry, Apple, Blackcurrant, Mango and Raspberry), increased real fruit photography and fruit illustrations will feature, as well as '1 of your 5 a day' and 'no added sugar' callouts. This will highlight the goodness in BEAR Yoyos products, as well as prompting shoppers on the choice in flavours the brand offers. The 'real fun' element, key for engaging kids, of each pack will also be highlighted via a larger callout for BEAR cards.
Jo Agnew, marketing director at Urban Fresh Foods Ltd, said: "Our new design brings the BEAR Yoyos products to life on shelf and reflects our core brand values of real fruit, flavour and fun. Following a fantastic 2021 for the brand, which saw BEAR end the year with a 35% market share and experiencing impressive +15% growth, the new packaging will be key to continuing this momentum into 2022.
"It's important for us to appeal to both parents, with our strong health credentials, as well as kids with our delicious and fun product. We wanted to launch the new packs at a time when kids are back to school and parents are facing the age-old dilemma of how to bring excitement to school lunchboxes, our aim is to always make the healthier choice simpler for parents and help grow the category as a result."