Lantmännen Unibake UK is tapping into demand for classic flavours with the introduction of a new cherry bakewell plait danish pastry.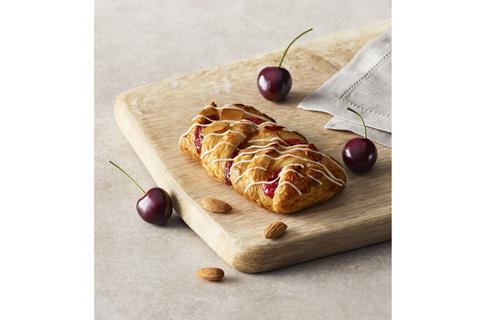 As the latest addition to the company's schulstad bakery solutions range, the product features 24 layers of pastry, a cherry filling, flaked almond topping, finished with a glaze and white icing.
With 50% of consumers stating that a sweet pastry is the perfect accompaniment for a hot drink and 72% saying they would make a joint purchase at least once a week, the new danish is designed to help retailers capitalise on sales of paired food and drink products (Opeepl Sweet Pastries & Icing Research March 2019).
Kate Sykes, marketing manager at Lantmännen Unibake UK, said: "Traditional British flavours are experiencing a significant resurgence. It is therefore imperative that brands work with their customers to explore ways to bring these flavours to life across new formats and consumption occasions.
"We know that when it comes to Danish pastries, almost half of consumers [48%] seek out traditional flavours (Opeepl Sweet Pastries & Icing Research March 2019). Acting on this insight, we've developed our New Cherry Bakewell Plait to deliver a taste that consumers know and love, in a format that's a little bit different. We are constantly innovating and looking at ways to keep the category fresh and we are confident that our latest addition will be an instant hit, encouraging more consumers into the Danish pastry market."