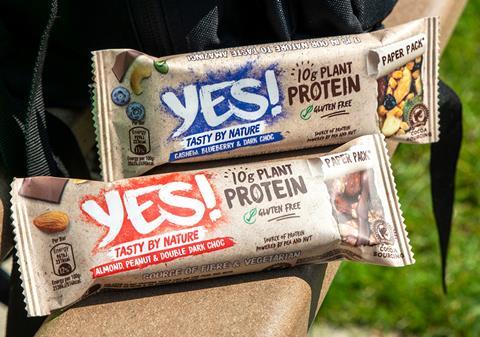 Nestlé UK & Ireland is launching a new range of YES! plant protein snack bars.
Each bar contains 10 grams of plant protein, sourced from a combination of peas and nuts.
The new bar comes in two flavours: Almond, Peanut and Double Dark Chocolate; and Cashew, Blueberry and Dark Chocolate. Each bar has an RRP of £1.59.
YES! protein bars will be initially available to Holland & Barrett stores, BP garages and WH Smith Travel outlets from August. They will also be available from a range of wholesalers from September. The launch will be supported with social media, sampling activity and shopper activation.
Brand manager for YES! Rosamunde Hobson said: "We know that people are increasingly, looking for options that are good both for them and for the environment. YES! plant protein bars provide a source of plant protein to deliver a great wholesome product on the go and are wrapped in paper packaging that is easy to recycle."
Head of the Nestlé Confectionery Product Technology Centre in York Louise Barrett added: "Peas not only have a high protein content, they are also one of the most sustainable sources of plant protein available. When developing these new YES! bars, we chose pea and nut protein to really stand out from many of the other bars on the market. At the same time, we made sure that taste was our top priority, and these bars really do taste amazing."
Nestlé advises retailers to site the bars within their healthy snacking fixture, located on-shelf next to lifestyle protein/enhanced well-being products.