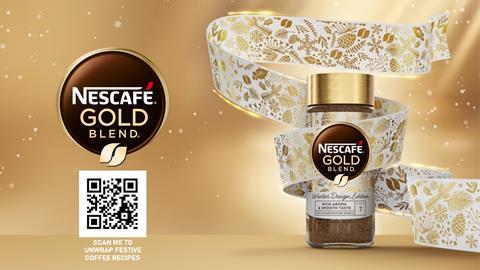 Nescafé Gold Blend is introducing its first ever limited-edition winter jar featuring an augmented reality (AR) recipe creation experience.
Exclusive to this season, the jar has a winter design and also features a QR code which coffee fans can scan with their mobile to discover festive coffee recipes and try them at home with Nescafé Gold Blend instant coffee.
There are three seasonal recipes in the range including Smoked Cinnamon Coffee, White Chocolate Mocha and Creamy Caramel Latte.
The limited-edition jars of Nescafé Gold Blend will be available across the UK and Ireland from this week.
Assistant brand manager for Nescafé Gold Blend at Nestlé UK and Ireland Tiffany Wigger said: "We are very excited to introduce our first ever limited-edition winter design jars to Nescafé Gold Blend to help consumers bring the festive coffee shop experience home.
"This season, our coffee lovers will not only be able to enjoy the rich and smooth taste of Nescafé Gold Blend in a winter design jar but also will have the opportunity to unwrap three delicious festive coffee recipes to try at home."