Three months on from its relaunch, Munchy Seeds has extended its snack pack range with a new mild chilli flavour.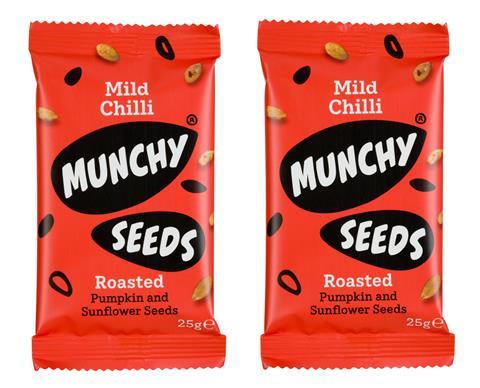 The flavour is a combination of savoury roasted seeds with chipotle and chilli. The blend of sunflower seeds and pumpkin seeds with a gentle kick of chilli is designed to be a great snack for any time of the day.
Munchy Seeds co-founder Lucinda Clay said: "When we launched our new range in September, we always knew we wanted to introduce another delicious and savoury snack pack. Mild chilli is a lovely blend with a nice kick of chilli, which is incredibly moreish too.
"We see mild chilli as perfect for those looking for a savoury choice for their everyday healthy snacking, but also a great addition to salads and stir-fries to boost nutrients and flavour in every bite."
The new flavour is available now in 25g snack packs, rrp 80p per pack.