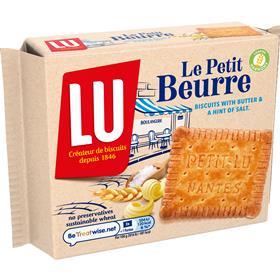 French biscuit brand LU is making its UK debut. Le Petit Chocolat, Le Petit Beurre, Le Petit Biscotte, and Le Petit Citron will offer customers "a quintessential taste of France to enjoy at home", claims Mondelez International.
The biscuit's oblong shape took inspiration from French tea mats used at the time. The additional design flourishes cleverly reflect the calendar year – four corner ears for the four seasons, 52 teeth for each week of the year and 24 indents for the 24 hours of each day.
Le Petit Beurre (167g, rrp £1.50, case size 6) is a buttery biscuit with a hint of salt; Le Petit Chocolat (140g, rrp £1.50, case size 14) combines Petit Beurre with a layer of milk chocolate. This biscuit features the famous 'Petit Ecolier' (little schoolboy) figure, moulded into the chocolate and designed by celebrated French designer, Firmin Bouisset.
Le Petit Citron (140g, rrp £1.50, case size 7) brings a soft texture and delicate lemon flavour to the range and Le Petit Biscotte (200g, £1.50, case size 10) pairs the subtle flavour of brown sugar and cinnamon with a rich crunchy texture.
Charlotte Parkes, senior brand manager, LU, said: "It's not every day that you can say you've worked with a French icon. LU's range is a real treat and these treats are sure to be a hit with biscuit lovers in the UK. With these four varieties, we bring something truly unique to shelves. Each with their own irresistible flavour, these recipes have more than stood the test of time."