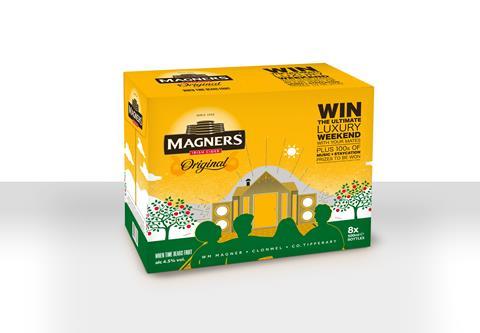 Magners has launched a new on-pack promotion, giving people the chance to enjoy time back with loved ones with a series of staycation prizes up for grabs including a luxury villa stay for 10 friends.
The promotion is available across 6m packs of Magners Original including four- and 10-packs of canned product as well as Magners Original 568ml bottles and 8 x 500ml bottles. In addition to the luxury staycation for 10, consumers can win from over one thousand prizes which include staycation vouchers, speakers, headphones and Spotify vouchers.
The new summer promotion runs from May until September and is available across both on and off-trade.
To enter, consumers will scan a QR code on the promotional packaging which takes them to a microsite where they can enter the competition by uploading a photo of their recently purchased Magners Original. Entrants will immediately find out if they have won from the staycation vouchers or music prizes and will be automatically entered into the main draw for the luxury weekend which will be drawn in September.
Iain Telford, senior marketing manager at Magners, said: "We're looking forward to giving people even more reason to celebrate the summer season with their favourite cider through our new giveaway. Summer is a busy time for the cider market and our new on-pack promotion will ensure strong brand presence in stores as we enter this key trading period while also giving us a chance to give back to our drinkers."