Unilever's Lipton is tapping into the trend for cold brew drinks with the launch of its new Real Iced Tea bags.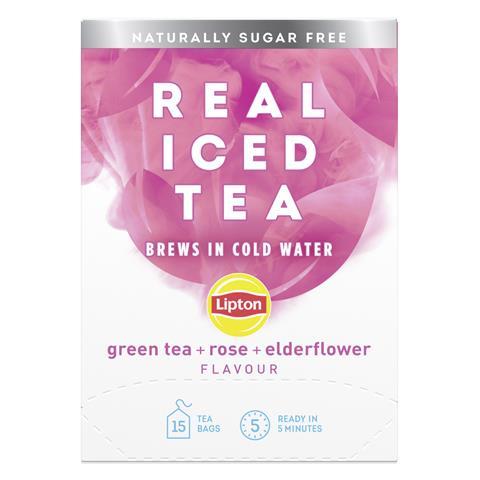 Supported by a £2m marketing investment, the new range consists of five flavours: Black Tea with Strawberry & Rhubarb; Black Tea with Peach & Apricot; Green Tea with Mint; Green Tea with Mango & Vanilla; and Green Tea with Rose & Elderflower.
Made with tea leaves certified by the Rainforest Alliance, Real Iced Tea by Lipton is designed to offer consumers a natural tea taste in a cold brew format and comes in plastic-free, biodegradable carton packs of 15 (rrp £3.79).
Fiachra Moloney, marketing director for Tea at Unilever UK, said: "Over the past few years, we've seen a real explosion in the love Brits have for iced tea. Cold serve teabags have emerged that offer convenience, but we noticed that something was missing – there was no tea!
"We are therefore proudly introducing a fast-brewing, authentic cold brew, that taps into our nation's love of tea and gives shoppers a revolutionary, thirst-quenching and all-natural way to enjoy their favourite beverage."
The launch of Real Iced Tea by Lipton will be supported by a new campaign from May, running throughout the summer until July.