Lactalis McLelland is celebrating the Scottish heritage of its Galloway, Orkney and Seriously brands with the rollout of limited edition St Andrew's Day packaging.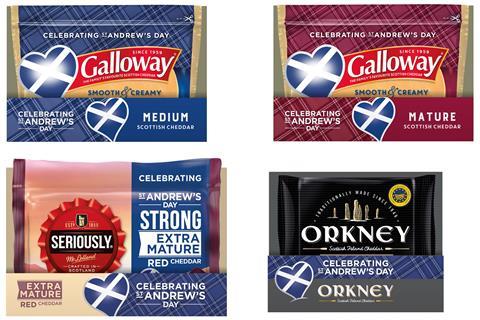 Available to c-stores now, the special packs are produced in Scotland and aimed at increasing sales in the lead up to St Andrew's Day (30 November 2019) and the festive period.
Featuring a tartan background with a heart shaped Scottish flag on the front of each pack, the St Andrew's Day makeover will run across five products: Galloway Mature (rrp £3.20 / 350g); Galloway Medium (rrp £3.20 / 350g); Seriously Extra Mature Red (rrp £3.50 / 350g); Orkney Mature White (rrp £2.29 / 200g); and Orkney Mature Red (rrp £2.29 / 200g).
Mike Chatters, sales director for Lactalis McLelland, said: "Our brands' Scottish heritage is very important, and we envisage that our new packaging will not only champion their provenance, but also help retailers create patriotic excitement for consumers looking to celebrate St Andrew's Day."