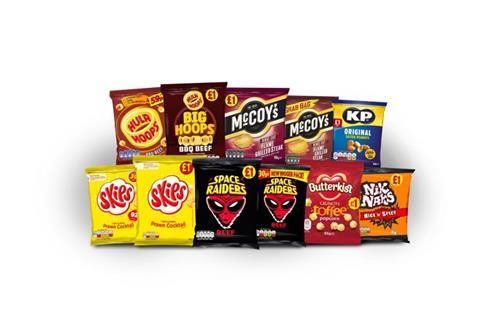 KP Snacks has unveiled a nationwide competition, exclusively with Convenience Store, to reward convenience retailers for their resilience shown through the pandemic.
The competition will see KP Snacks reward five 'Local Legends', a retailer or retail team, who've gone above and beyond.
Five winners will each receive a prize package containing £500 donation to a registered charity of their choice; £250 of free 'super 7' product stock (Hula Hoops Big Hoops BBQ, Skips, Nik Naks Nice 'n' Spicy, McCoy's Flame Grilled Steak, Space Raiders Beef, Butterkist Toffee Popcorn and KP Nuts); a pair of tickets to GroceryAid Barcode Festival 2021; £250 of Love2Shop vouchers and a 'Local Legends' plaque to display in store. There are also five runner-up prizes of £200 of KP Snacks stock to be won.
Trading director of KP Snacks Matt Collins said: "We are really proud of retailers and their teams for the resilience and determination they've shown in this national crisis. They have been an integral support to local communities dealing with unprecedented pressures and demands. They've been there for us and we want to be there for them. It's time to celebrate their contributions and give something back".
Entries are open from 10 August and anyone can nominate a 'Local Legend' by filling in an online form and telling us what makes their chosen retailer or their team special, what they've done to deserve the accolade and what impact their actions have had. You can nominate yourself, a peer, a colleague or a team, and if the person you nominate wins then you'll receive £100 of Love2shop vouchers just for nominating them.
Entries will be judged by KP Snacks' Matt Collins, editor of ConvenienceStore.co.uk Aidan Fortune and chief executive at retail charity GroceryAid Steve Barnes.